Register:
To stream with streamaudio, You have to send us a Mail (mail@streamaudio.de). The process is really easy. You should be reachable via this Email - you know ;) And I need the following information from You:
- your name
- the name of your radiostation
- the website-url
- music genre

Every account starts with the smallest package. If You exhaust the slots of your package, i will upgrade it to the higher one. Should You demonstrably need more than 32 slots, please tell it to me.
Because consistently people register to this free service and dont use it for real, here are the rules:
- the icecast-streamlink should be used in your website respectively playlist
- the icecast-streamlink should be your mainstream - not the backup
- the stream shouldnt be offline daylong
- re-streaming of other radios is not so fine ;)
OK, the rules might sound a little bit hard, but i dont like it when i providing resources of the server that dont be used. Hope you understand that because its work & time i have to spend, for adding & removing accounts when they are daylong offline or not used anymore.
Testaccounts:
These are our 4 accounts, to make shure You can test the service without registration.
Server: stream.streamaudio.de
Port: 8000
Mountname: teststream1 Pass: passwort1
Mountname: teststream2 Pass: passwort2
Mountname: teststream3 Pass: passwort3
Mountname: teststream4 Pass: passwort4
limits: ∞ kbit/s | 8 listeners | ∞ min
butt (broadcast using this tool):
Install and start butt. Click on "Settings".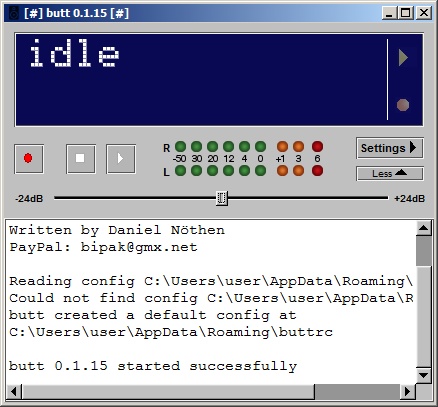 With button "ADD" you can setup your mountpoint.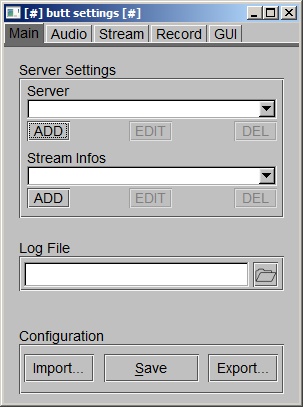 Put in your given information and close with "ADD".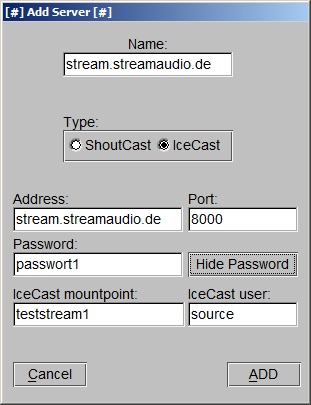 Under the point "Settings > Audio > Streaming" you can set your Encoder & Bitrate.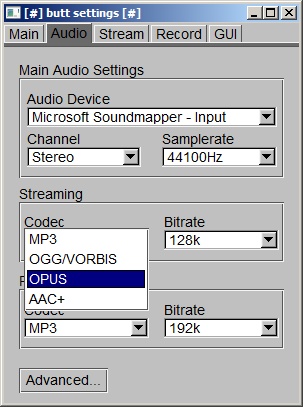 Now you are able to start your stream with one klick on the playbutton.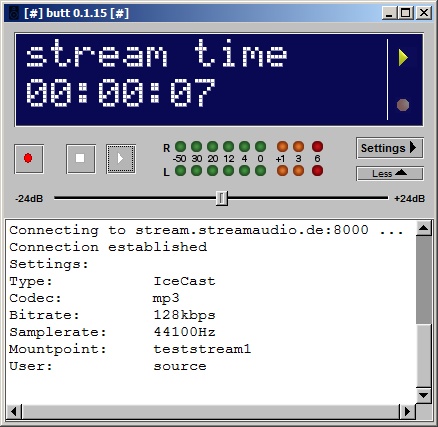 .